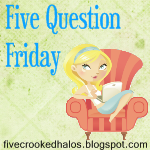 1. W
hat's the one thing you buy every time you walk into the store?
The first place I go in any store, department or thrift, is to the baby/kids department. I don't buy something every time, but almost every time I find something for one of the grandkids.
2.
If you had a day all to yourself how would you spend it?
Staying home in my sewing room and making things I don't have to make, just fun stuff, with no deadlines.

I'd get my embroidery machine going and sew on my other machine, probably making things for babies. I really would like to open a shop on Etsy when I retire next year.
3. A
re you a speed limit driver? If not, over or under?
I usually go five miles over the speed limit. I've gotten two speeding tickets in my life, both in neighborhoods where the speed limit went from 30 to 20 in a school zone.
4.
What's your favorite dessert to make, homemade or from a mix??
The one I make the most is a gooey butter cake--my boys love it and I even made one this week for a friend at work's birthday.
5. Would you rather have a spider or a mouse scurry across your face (no copping out and saying "neither!!")?
Probably a spider--a little one I could not even feel. I COULD N O T S T A N D a mouse.
How about YOU??