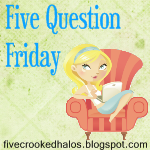 1. F
lu mist? Flu shot? Or take your chances?
Flu Shot. Wasn't going to get one but after watching the news this week I went to Walgreens Thursday evening and got one. I was worried because at school I come in to contact with so many of the students and they tend to be germy.
2. D
o your kids have iPads? W
hat are some good educational apps? Price?
My kids are grown, but a couple have some kind of tablet or game system. The grandkids have game systems. Don't know about educational. A couple of them got Kindle Fires for Christmas and I think they were $140--much cheaper than an iPad.
3.
What are your favorite boy/girl baby names?
My own children and grand childrens' names are favorites, of course, then:
4.
If an apple a day keeps the doctor away, which apple do you choose to eat?
(red/green, gala, red delicious...)
5.
What is your favorite place to escape to for peace & quiet, to think? Why?
Probably my sewing room. I don't know if I think a lot in there bu

t

it's nice and quiet and I'm alone.
How about YOU?
Share your answers with me!