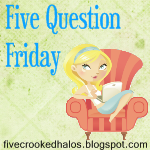 1.

Do you prefer to drive to your vacation spot or fly?
Drive.
I will fly...i do fly--especially to Boston because it is a two-day drive.
But, confession here, I hate to fly.
So, whenever possible we drive.
2.
If you could live any where in the world, where would you go and why?
Anywhere my family is.
3. S
hould grown women wear leggings?

No






4. I

f you could change your name to any other name, would you?




And what would it be?



I used to hate my name but now I like it okay.
I don't think I would change it if I could--after 62 years I'm kind of used to it.





5.

What magazines do you have subscriptions to?



Time
Traditional Home
Sew Beautiful
Victoria
Parents