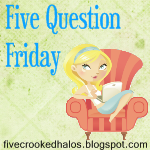 1.

What is one grammar issue you cannot let go without correction?
there, their, they're and it's, its
2.
What's your favorite thing about fall?
The colors.
3.
What's your favorite dish to take to a potluck?
Party Potatoes
4.
When do you start Christmas (Holiday) shopping?
I've already bought a couple of things this year. I usually start in November but end up having to hustle the last couple of weeks before Christmas. The grand children are easy....because they are still little and like most things! We give our own children checks, but I like to have something for them to open, usually something monogrammed. I like to make some of my gifts, especially for people at work who I give to now.
5.
Did you move homes a lot growing up?
No. Our family moved from Richmond Heights to Shrewsbury when I was six years old, and they never moved again.